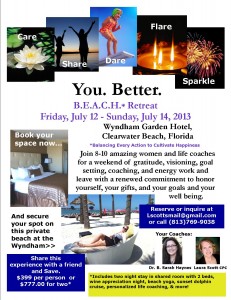 I was speaking to a woman recently about my coaching practice and as I responded to her questions about the types of coaching I do, she interrupted and asked, "So, you are saying that people can choose to be happy?" I responded with a resounding "Yes!"
Fast forward a couple months to B.E.A.C.H.* Retreat (Balancing Every Action to Cultivate Happiness) an weekend retreat for women myself and my colleague Sarah Haynes are facilitating at a beach resort in Clearwater Beach Florida July 12-14, 2013. I have posted the flyer above.
I have been looking forward to this weekend for the past month, inspired by the questions Deepak invites us to ask before we jump in to anything:
Is it fun?
Are the people you are doing it with fun?
Are you going in with an intention of service?
I answer these questions with a resounding "Yes!"
Care to join us? Only three spots left. Call the number on the flyer above for more information or email [email protected].