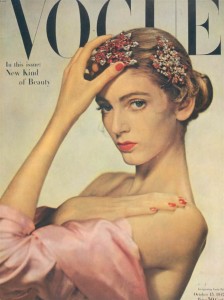 I was Googling "Fashion Week" and I came across this amazing article on 81-year-old fashion model Carmen Dell'Orefice.
She started modeling in her teens and was recently featured in an HBO documentary on supermodels. At first it was a pragmatic career move made to help her single mother pay some bills, but then the camera loved her and she graced the covers of the top fashion magazines and succeeded beyond her wildest dreams.
When Dell'Orefice lost much of her wealth to Bernie Madoff's Ponzi scheme, she did what she needed to do and went back out on the runway. It was a move that that was motivated not just by money but by her awareness of her legacy, her passion, and who she is as a woman:
"I think America may be growing up and accepting the fact that the bulk of life exists beyond 50. Because demographically … the vast population is over 50," she said. "This is not to negate the young people coming up. But what kind of an example are we giving young people?"
"I don't know if it's good or silly," she told TODAY's Jenna Bush Hager of her current modeling career. "It's what I enjoy doing, and I'm able to do it."
Silly? No. Good? Yes, oh yes!